Vietnam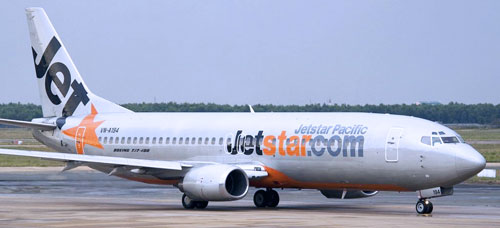 Jetstar Pacific is a Vietnamese budget airline formerly known as Pacific Airlines. It joined the Jetstar family and was renamed in 2008 after Qantas Airways purchased a 30% stake.
Jetstar Pacific operates as a domestic carrier with scheduled flights to six destinations within Vietnam. Its hub is Tan Son Nhat International Airport in Ho Chi Minh City. Though Pacific Airlines flew to international destinations like Singapore and Taiwan, these routes are now served by Jetstar itself.
The airline operates a small but modern fleet comprising of five Boeing B737-400s and two Airbus A320-200s. To differentiate themselves from Jetstar, Jetstar Pacific planes are painted grey with the orange star logo.
Jetstar Pacific offers online ticketing and credit card payment via the main Jetstar website. Bookings can also be made by telephone or through authorized travel agents.
Current Jetstar Pacific destinations include:
Vietnam
Da Nang (Da Nang International Airport, DAD)
Hanoi (Noi Bai International Airport, HAN)
Ho Chi Minh City (Tan Son Nhat International Airport, SGN) Hub
Hai Phong – (Cat Bi International Airport)
Ho Chi Minh City (Tan Son Nhat International Airport, SGN) Main Hub
Nha Trang (Cam Ranh International Airport)
Vinh (Vinh Airport)