Australia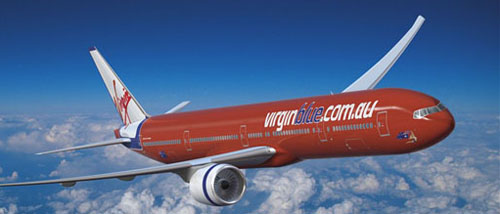 Virgin Blue is an Australian low-cost airline and the country's second-biggest airline. It was founded by the British businessman Richard Branson's Virgin Group. The airline is based in Brisbane, Queensland.
Virgin Blue launched its services on 3 August 2000, with two aircraft initially offering 7 return flights a day between Brisbane and Sydney. Since then the airline expanded to cover all major Australian cities and many holiday destinations.
In September 2003, Virgin Blue announced that its wholly owned subsidiary, Pacific Blue, would offer a similar low-cost service between New Zealand and Australia.
In early 2006 Virgin Blue announced its intention to operate international flights to Los Angeles International Airport (LAX). The airline has also expressed interest in flying to Japan.
Virgin Blue is in negotiations with Boeing to acquire seven Boeing 777-300ER aircraft for use on international routes.
The airline operates a members lounge facility for travelers at Brisbane, Sydney, Melbourne and Adelaide airports.
Current Virgin Blue destinations include:
Australian Capital Territory
Canberra – Canberra International Airport
New South Wales
Ballina – Ballina Airport
Coffs Harbour – Coffs Harbour Airport
Newcastle – Newcastle Airport
Sydney – Kingsford Smith International Airport
Northern Territory
Darwin – Darwin International Airport
Queensland
Brisbane – Brisbane Airport
Cairns – Cairns International Airport
Gold Coast – Gold Coast Airport
Hamilton Island – Hamilton Island Airport
Hervey Bay – Hervey Bay Airport
Mackay – Mackay Airport
Rockhampton – Rockhampton Airport
Sunshine Coast – Sunshine Coast Airport
Townsville – Townsville International Airport
Whitsunday Coast (Proserpine) – Proserpine/Whitsunday Coast Airport
South Australia
Adelaide – Adelaide International Airport
Tasmania
Hobart – Hobart International Airport
Launceston – Launceston Airport
Victoria
Melbourne – Melbourne Airport
Western Australia
Broome – Broome International Airport
Perth – Perth Airport