India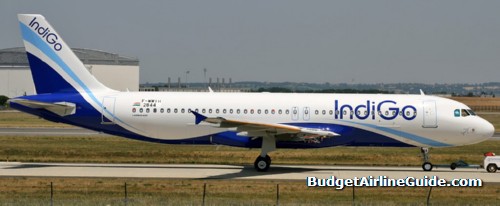 IndiGo Airlines is a privately owned budget airline based in Gurgaon, India. Its main hub is Delhi's Indira Gandhi International Airport with secondary hubs in Mumbai and Kolkata.
Since commencing domestic flights in 2006, IndiGo has become India's leading low cost airline and flies to 26 destinations across the Indian subcontinent. In 2011 IndiGo began international operations with flights to Nepal, Oman, Dubai, Singapore, and Thailand. All IndiGo routes are flown by Airbus A320 aircraft.
IndiGo has won numerous industry awards and has one of the best on-time performances of all budget airlines. IndiGo is also notable for allowing one free piece of checked luggage per passenger.
IndiGo destinations currently include:
Ahmedabad (Sardar Vallabhbhai Patel International Airport)
Agartala (Agartala Airport)
Bangalore (Bengaluru International Airport)
Bhubaneswar (Biju Patnaik Airport)
Chennai (Chennai International Airport)
Coimbatore (Coimbatore Airport)
Delhi (Indira Gandhi International Airport) Main Hub
Dibrugarh (Dibrugarh Airport)
Goa (Dabolim Airport)
Guwahati (Lokpriya Gopinath Bordoloi International Airport)
Hyderabad (Rajiv Gandhi International Airport)
Indore (Devi Ahilyabai Holkar Airport)
Imphal (Imphal Airport)
Jaipur (Sanganer Airport)
Jammu (Jammu Airport)
Kochin (Cochin International Airport)
Kolkata (Netaji Subhash Chandra Bose International Airport)
Lucknow (Amausi Airport)
Mumbai (Chhatrapati Shivaji International Airport) Main Hub
Nagpur (Dr. Babasaheb Ambedkar International Airport)
Patna (Lok Nayak Jayaprakash Airport)
Pune (Pune International Airport)
Raipur (Raipur Airport)
Srinagar (Srinagar Airport)
Thiruvananthapuram (Trivandrum International Airport)
Vadodara (Vadodara Airport)
Nepal
Kathmandu (Tribhuvan International Airport)
Oman
Muscat (Muscat International Airport)
Singapore
Singapore (Singapore Changi Airport)
Thailand
Bangkok (Suvarnabhumi International Airport)
United Arab Emirates
Dubai (Dubai International Airport)