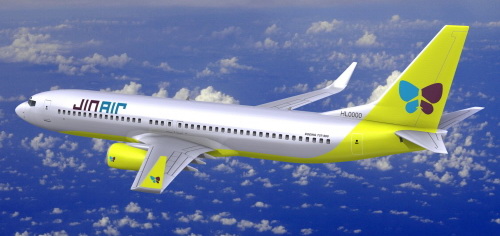 Jin Air is a budget airline based in South Korea. It is a full subsidiary of national carrier Korean Air and was formerly known as "Air Korea". Its hubs are Seoul Incheon Airport and Jeju Airport.
Jin Air began domestic services in 2008 and international services in 2009. In addition to its two destinations in South Korea, Jin Air flies to China, Guam, Japan, Hong Kong, Macau, Philippines, and Thailand. All flights are operated using Boeing 737-800 aircraft.
Only economy class seating is available on Jin Air flights. Complimentary non-alcoholic beverages are provided on all flights.
Current Jin Air destinations include:
South Korea
Jeju – Jeju International Airport
Seoul – Incheon International Airport
China
Shanghai – Shanghai Pudong International Airport
Guam
Antonio B. Won Pat International Airport
Hong Kong
Hong Kong – Hong Kong International Airport
Japan
Sapporo – New Chitose Airport
Macau
Macau International Airport
Philippines
Clark – Diosdado Macapagal International Airport
Cebu – Mactan-Cebu International Airport
Thailand
Bangkok – Suvarnabhumi International Airport