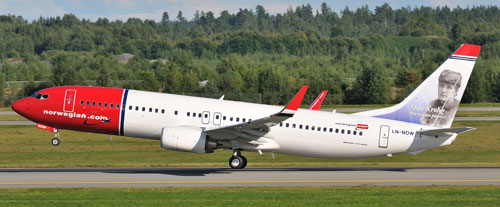 Norwegian Air Shuttle is a low-cost airline based in Oslo, Norway. It was founded in 1993 and has grown to be the second largest airline in Scandinavia. Norwegian Air Shuttle has bases at Oslo, Copenhagen, Stockholm, Helsinki, Bergen, Trondheim, Stavager and Sandefjord Airports.
Norwegian Air Shuttle operates scheduled flights to 115 destinations in 36 countries. Destinations include smaller cities within Scandinavia and international destinations across Europe, the Middle East, and North Africa.
Currently, the Norwegian Air Shuttle fleet comprises exclusively of Boeing 737 aircraft. Starting in 2012, Boeing 787 Dreamliners will be used for long-haul flights.
Current Norwegian destinations include:
Austria
Salzburg – Salzburg Airport
Vienna – Vienna Airport
Bulgaria
Burgas – Burgas Airport
Varna – Varna Airport
Bosnia and Herzegovina
Sarajevo – Sarajevo Airport
Croatia
Dubrovnik – Dubrovnik Airport
Pula – Pula Airport
Rijeka – Rijeka Airport
Split – Split Airport
Zagreb – Zagreb Airport
Cyprus
Larnaca – Larnaca Airport
Czech Republic
Prague – Prague Airport
Denmark
Aalborg – Aalborg Airport
Billund – Billund Airport
Copenhagen – Copenhagen Airport Base
Karup – Karup Airport
Rønne – Rønne Airport
Estonia
Tallinn – Lennart Meri Tallinn Airport
Finland
Helsinki – Helsinki Airport Base
Oulu – Oulu Airport
Rovaniemi – Rovaniemi Airport
Turku – Turku Airport
France
Bordeaux – Bordeaux – Merignac Airport
Grenoble – Grenoble-Isere Airport
Nice – Cote d'Azur Airport
Paris – Paris Orly Airport
Germany
Berlin – Berlin Schonefeld Airport
Dusseldorf – Dusseldorf Airport
Hamburg – Hamburg Airport
Munich – Munich Airport
Greece
Athens – Athens International Airport
Chania – Chania Airport
Corfu – Corfu Airport
Heraklion – Heraklion Airport
Kos – Kos Island Airport
Rhodes – Rhodes Airport
Santorini – Santorini (Thira) Airport
Hungary
Budapest – Budapest Ferihegy International Airport
Ireland
Dublin – Dublin Airport
Israel
Tel Aviv – Ben Gurion International Airport
Italy
Milan – Milan Malpensa Airport
Olbia – Olbia – Costa Smeralda Airport
Palermo (Sicily) – Palermo Airport
Pisa – Galileo Galilei Airport
Rome – Leonardo da Vinci-Fiumicino Airport
Venice – Venice Marco Polo Airport
Kosovo
Pristina – Pristina Airport
Latvia
Riga – Riga Airport
Lithuania
Vilnius – Vilnius International Airport
Malta
Valetta – Valetta Airport
Morocco
Agadir – Agadir – Al Massira Airport
Marrakech – Marrakech Airport
Netherlands
Amsterdam – Amsterdam Schiphol Airport
Norway
Ålesund – Ålesund Airport
Alta – Alta Airport
Bardufoss – Bardufoss Airport
Bergen – Bergen Airport Base
Bodø – Bodø Airport
Harstad/Narvik – Harstad/Narvik Airport
Haugesund – Haugesund Airport
Kirkenes – Kirkenes Airport
Kristiansand – Kristiansand Airport
Lakselv – Lakselv Airport
Longyearbyen – Svalbard Airport
Molde – Molde Airport
Oslo – Oslo Gardermoen Airport Headquarters & Main Base
Sandefjord – Sandefjord Torp Airport Base
Stavager – Stavager Airport Base
Tromsø – Tromsø Airport
Trondheim – Trondheim Airport Base
Portugal
Faro – Faro Airport
Poland
Gdansk – Gdansk Lech Walesa Airport
Krakow – Krakow-Balice John Paul II International Airport
Szczecin – Szczecin-Goleniow Solidarnosc Airport
Warsaw – Warsaw Fredric Chopin Airport
Wroclaw – Wroclaw Copernicus Airport
Russia
St Petersburg – St Petersburg Airport
Serbia
Belgrade – Belgrade Nikola Tesla Airport
Spain
Alicante – Alicante Airport
Barcelona – Barcelona Airport
Ibiza – Ibiza Airport
Las Palmas – Gran Canaria Airport
Lanzarote – Lanzarote Airport
Malaga – Malaga Airport
Murcia – Murcia-San Javier Airport
Palma – Palma de Mallorca Airport
Tenerife – Tenerife South Airport
Valencia – Valencia Airport
Sweden
Gotland – Visby Airport
Luleå – Luleå Airport
Malmo – Malmo Airport
Stockholm – Stockholm Arlanda Airport Base
Umeå – Umeå Airport
Switzerland
Geneva – Geneva Airport
Zurich – Zurich Airport
Turkey
Antalya – Antalya Airport
Istanbul – Sabiha Gokcen International Airport
United Arab Emirates
Dubai – Dubai International Airport
United Kingdom
Edinburgh – Edinburgh Airport
London – London Gatwick Airport
Manchester – Manchester Airport